I wish, like my husband, I was a natural in the kitchen. Fate would have it though, I am
just
a natural at the table! Or maybe, the sink.
I mean,
Yummy Mummy
, you make it look so easy!
Butterfly Cakes
, no problem!
Vanilla Bean French Macarons with painted Peonies
, of course!
I feel accomplished, personally speaking, when I manage without error to cook bacon and eggs, or more embarrassing, boil rice.
But hope is not lost, because I
am
creative. Here, for instance, are a few
Yo Gabba Gabba
party hats I recently made:
If you like these, and want pointers on how to make your own,
email me
. If you have a themed party and would like custom hats, also let me know. I feel certain I could conquer
any
character!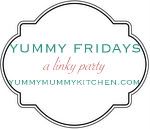 Lastly, thanks for inspiring me to cook and create,
Yummy Mummy
. As a mention, if you've made something you'd like to share, check out the
linky
above. Also, don't forget to stop by my
Sundae Hop
beginning tonight at 7 PM EDT.
Now, anyone feel like voting? Pretty please! XO